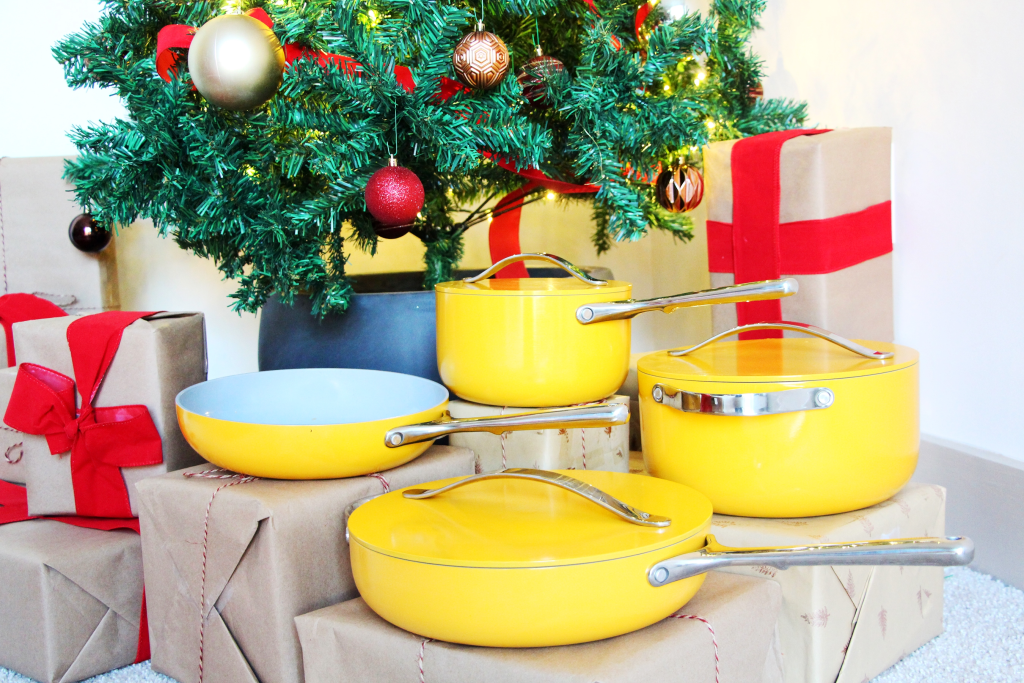 I've always been honest with the fact that I'm not great in the kitchen. That's why I believe it's important to have a good, durable cookware set. Over the years I've learned that buying cheap pots and pans isn't great for anyone but it's especially challenging if you're not in tune with how to prepare a good meal. In my early years, I bought a lot of thin pots and pans that burned my food, turned weird colors, and a few times the handle even broke off. My food was always getting stuck to the bottom of the pan and sometimes the pan would put off a smell when it was heated. I've learned how to buy better pots and pans over the years but nothing beats this new cookware set I received from Caraway.
Caraway is a home and kitchenware brand that offers a range of cookware sets designed for various types of cooking. Some of the key features of Caraway cookware sets may include:
Non-stick coating: Many Caraway cookware sets feature a non-stick coating that allows food to be cooked without sticking to the surface, making them easy to clean and use.
Durable construction: Caraway cookware is typically made from high-quality materials such as stainless steel or aluminum, which makes them durable and long-lasting.
Oven-safe: Some Caraway cookware sets are oven-safe, allowing you to use them for a variety of cooking techniques and recipes.
Ergonomic handles: Caraway cookware sets often have ergonomically designed handles that provide a comfortable and secure grip when cooking.
Variety of sizes and shapes: Caraway cookware sets are available in a range of sizes and shapes to suit different cooking needs and preferences. For example, there may be options for saucepans, skillets, frying pans, and more.
Stylish design: Caraway cookware sets are known for their stylish and modern design, which can add a touch of sophistication to any kitchen.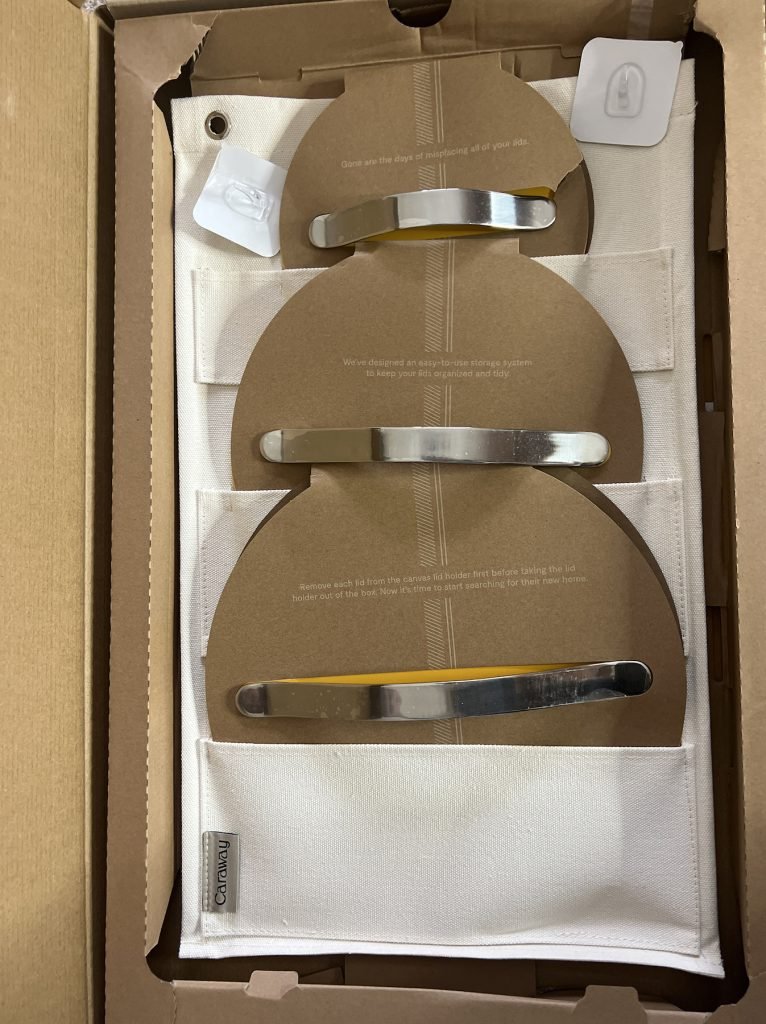 The Caraway cookware set is made of non-toxic ceramic and includes a range of different pots, pans, and accessories, including a lid holder, pan racks, trivets, and hooks. The set is free of PFOA, PTFE, PFAS, cadmium, lead, and other toxic metals, making it a safe and healthy choice for cooking. The Dutch oven is made of ceramic-coated cast iron, which combines the benefits of cast iron with the non-stick properties of ceramic. Included in the Caraway cookware set are a 10.5-inch fry pan, a 4.5-quart saute pan with a lid, a 3-quart saucepan with a lid, and a 6.5-quart Dutch oven with a lid.
The cookware set comes with several useful accessories, including trivets to protect countertops and a lid rack, and a magnetic pan rack for storage. Caraway recommends hanging the lid rack on the inside of a cabinet or a wall. I suggest doing this on a lower cabinet than a higher one as the lids are pretty weighty and it'll reduce the risk of any mishaps. Caraway also recommends arranging the pan rack horizontally on the countertop with a dish towel or drying mat underneath to absorb water but you can also store the pan rack horizontally in a cabinet. I love the look of the Caraway cookware set with the pan rack stored in a deep cabinet. It just looks so nice and neat. Unfortunately, although my current kitchen has lots of cabinets, they aren't that deep or wide to store the cookware pan rack so I've been keeping it on my kitchen counter. It still offers a great kitchen aesthetic! The two trivets included in the Caraway cookware set are a great addition. I've always forgotten to include trivets in my household shopping whenever I've gone shopping for new cookware but they come in handy.
I have to admit, my default is to cook everything on high but Caraway recommends using the cookware on low to medium heat only, as overheating can wear away the non-stick coating. It's also suggested to use only a few drops of oil and to avoid oil sprays or cooking aerosols, opting for butter or liquid-based oils instead. The cookware is burner agnostic and can withstand up to 550 degrees Fahrenheit in the oven. Caraway also recommends handwashing the cookware using warm soapy water and gently scraping away any stuck food by simmering with soapy water over low heat. Since I'm primed to overheat my pans, I'm often disappointed when my pots and pans get browning stains on them from oil burning on the cookware. In this case, Caraway suggests using a mixture of water, baking soda, and white vinegar to restore the cookware from any browning that may occur from general use. Drying the cookware is pretty straightforward. You can either air dry or towel dry the cookware to prevent rusting.
It's not necessary to season the ceramic pans as they come naturally non-stick, and only a dash of oil is needed for cooking. It's important to note that the handles are stainless steel and may get hot, but there is a small bump on the underside of the handle to help prevent you from extending your hand past the danger zone. It's also recommended to use utensils with smooth edges, such as wooden or silicone, to avoid damaging the non-stick coating.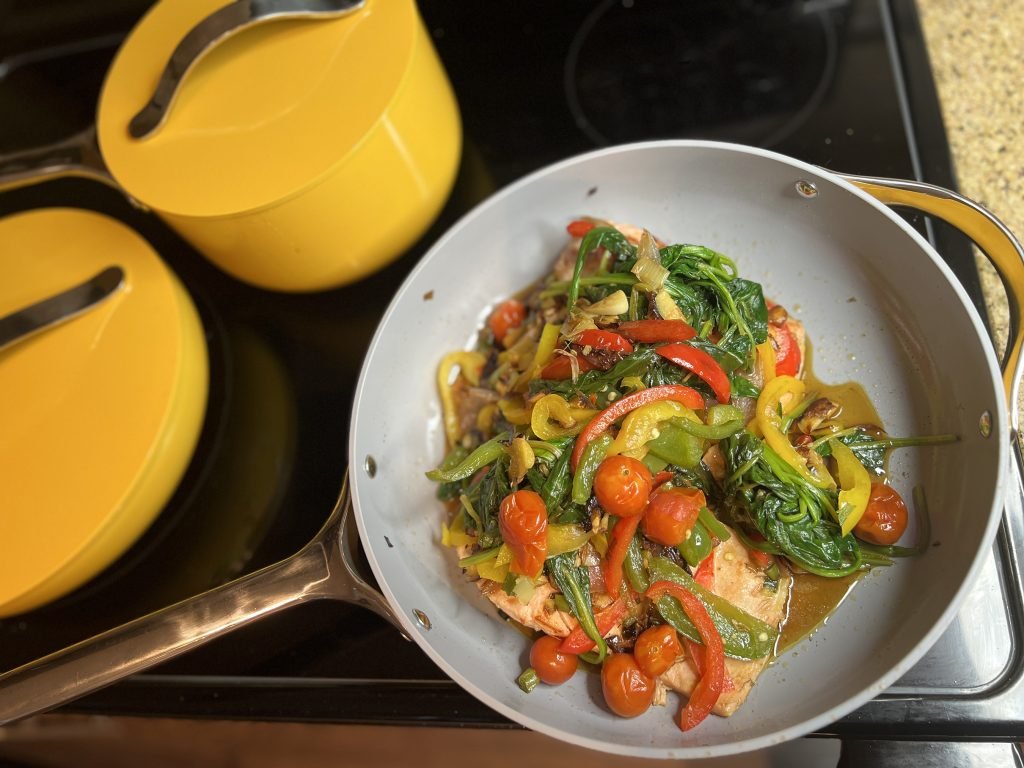 After I unboxed my Caraway set, I decided to demonstrate how effective the Caraway cookware set is to cook with. So, I hosted an Amazon Livestream session where I cooked our entire dinner using the set Caraway sent me. I feel like this is especially a great demonstration of the durability and efficiency of the cookware because I'm historically not a great cook. I haven't cooked a full meal in over 3 years. Currently, I only cook eggs for breakfast. For my Caraway Livestream, I prepared salmon on a bed of peppers and onions with a tomato and spinach sauce. I used all of the pots and pans included in the Caraway cookware set except for the dutch oven. I was able to make our meal in under an hour.
I'll be honest, I'm not excited about handwashing anything but the Caraway cookware set was as easy to clean as they claimed. Each pot and pan only required warm soapy water and a non-abrasive sponge. I dried them with a soft dish towel like Caraway recommended and stored them away easily in the magnetic pan rack and lid rack respectively.
Since I received my Caraway cookware set, I haven't gone back to using my other pans. Caraway cookware sets are a good choice for those who are looking for cookware with a modern and sophisticated design, made from quality materials that include storage accessories, even heating and versatility for different cooktops and ovens, steady cooking performance, and a broad choice of colors.