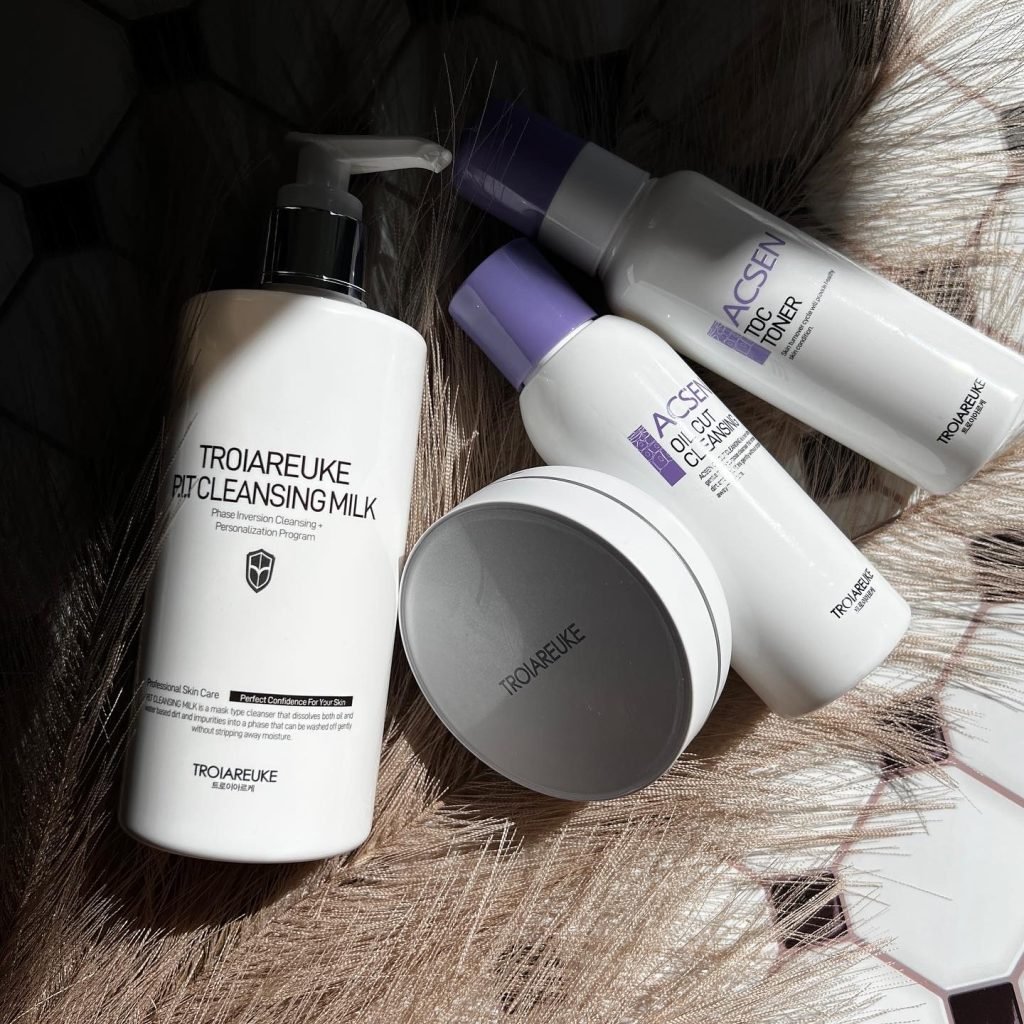 I was introduced to Troiareuke via my inbox as I hadn't seen or heard of the brand previously. After reading some reviews and watching a few videos, I decided to accept their offer to send me a personalized kit of products. Troiareuke is a widely known luxury K-Beauty brand that is used in professional skincare treatments in over 5,000 spa clinics in South Korea. Troiareuke curates a personalized skin care routine based on your needs.
In this kit, Troiareuke sent me 4 products:
P.I.T Cleansing milk
ACSEN  TOC Toner
ACSEN  Oil Cut Cleansing
A+ Cushion Foundation
When first received the products I honestly had to do some research to find out what the acronyms on all of the products meant.
P.I.T stands for 'Phase Inversion Technique'. Phase Inversion Technique is a chemistry term that means that there's a change in the state of the product from water to oil and oil to water.
The acronym ACSEN is a combination of the words  'ACne and SENsitive'.
TOC stands for 'Turnover Cycle'
A+ is Aesthetic 'Plus' because it is a combination of makeup and skincare.
Now that we've gotten all of the acronyms out of the way, lets get into the reviews of each of these products from Troiareuke.
P.I.T Cleansing Milk is a super gentle formula that is packed with moisturizing ingredients like Pine Tree Leaf Extract, Camellia Seed Oil, Apricot Kernel oil among other botanical oils to leave your face feeling supple at the end of the day. It helps remove makeup and impurities while keeping skin hydrated and smooth. After you apply it, you'll need to leave it on for at least 2 minutes but preferably 5-10 minutes so that the Phase Inversion takes place changing the cleanser from a creamy texture to a watery milky texture. In the past, I wasn't crazy about 'milk' cleansers because I always felt that they were leaving a film and dirt on my face. However, when I used the P.I.T Cleansing Milk; my face felt clean, fresh and hydrated after I washed it off.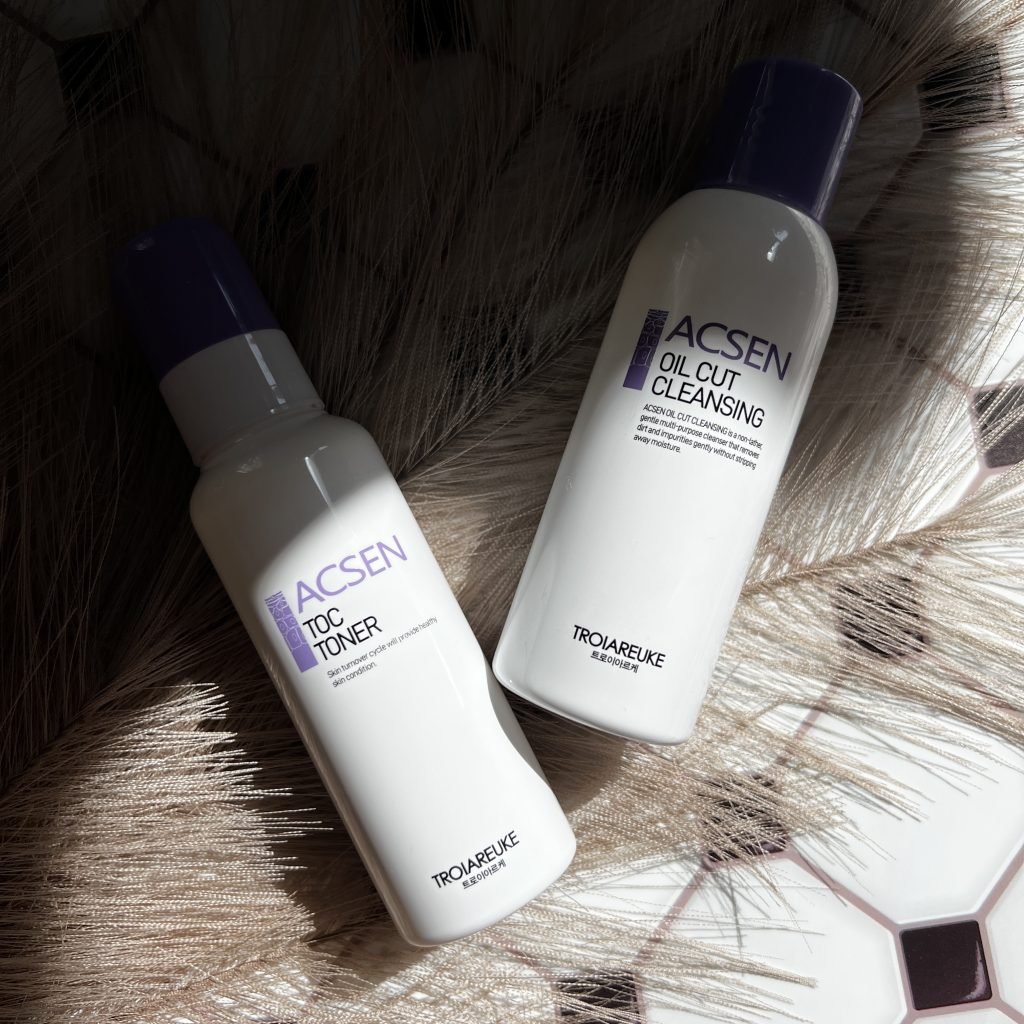 The ACSEN is an all in one cleanser that can be used as first and second cleanser. It comes in a clear gel texture that doesn't foam or emulsify by way of a unique micro-emulsion technique it gently remove all the dirties and the excess serum from the skin. The ACSEN Oil Cut Cleanser is great at removing excess sebum, pollutants, base makeup and sunscreen. It contains papayas enzymes, purslane extract and aloe vera juice. This combination allows for gentle exfoliation while hydrating the skin. It's easy to rinse off and it doesn't set on the skin.
The ACSEN TOC Toner contains glycolic acid, chia seed extract, and centella asiatica. The turnover cycle (TOC) is a proprietary blend created to improve the skin turnover cycle, revealing clearer, more even skin tone. This toner is gentle, but exfoliates dead skin cells. Most importantly, it does not sting.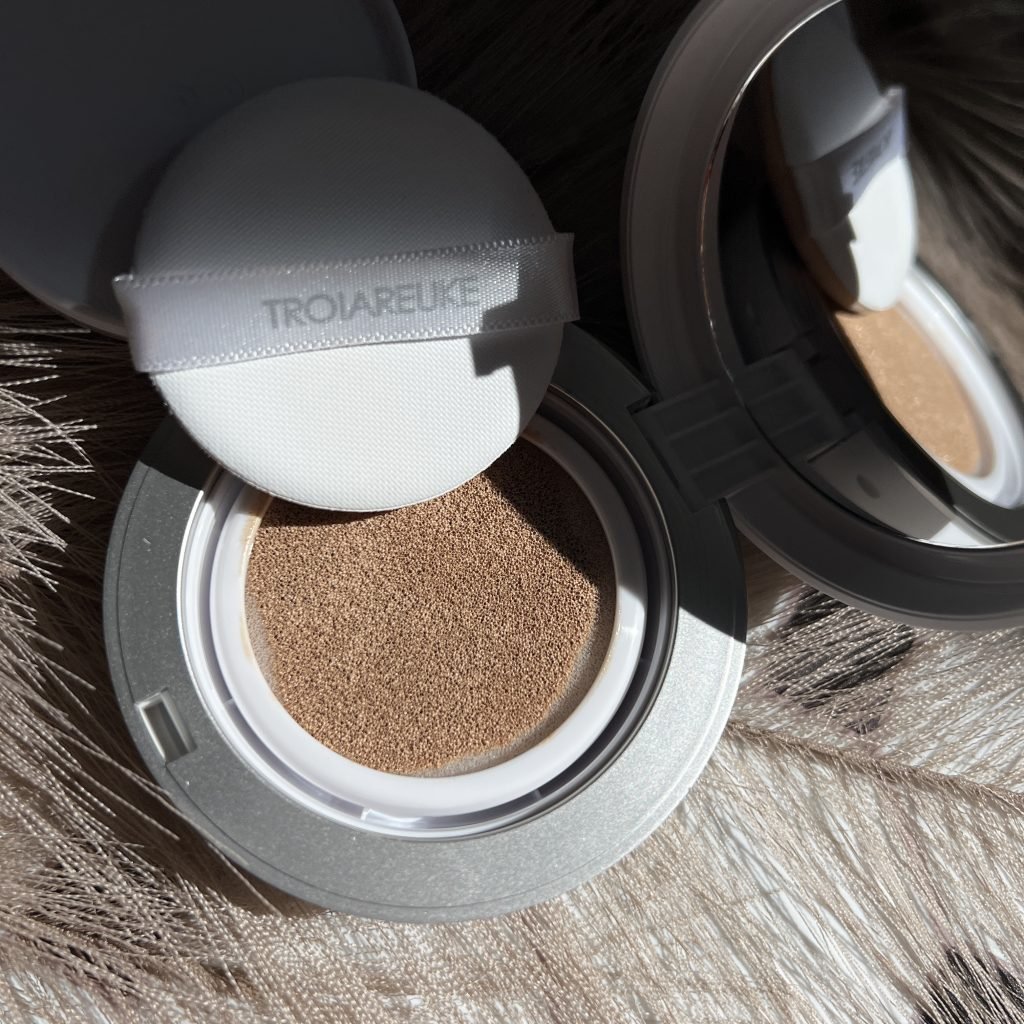 The A+ Cushion Foundation comes in a nice portable compact with a mirror. I love that the compact has a separate compartment for the sponge so that the sponge is not soaking up all of the foundation. This format may be new to a lot of the American audience as the foundation isn't a powder or a cream; it's a liquid delivered in a pressed-powder compact in which the foundation is filtered through a cushion that is embedded in the compact. The application process is to gently press the sponge onto the cushion to capture the desired amount of foundation onto the sponge and then apply to the face. The application process is to tap instead of wipe or brush ( with a makeup brush) the foundation into the skin until you've reached the desired coverage.
The hero ingredients in the A+ Cushion Foundation are calendula flower extract, madecassoside, and tea tree leaf extract. The formula is a light to medium consistency meant to leave a dewy glow to the skin. On my first attempt to apply the A+ Cushion Foundation, I found it to be quite pigmented and also a bit grey in tone for my skin. I tend to lean more in the 'yellow' undertones but definitely can also fit in the blue/green (grey) and pink undertones as well. So it depends on the formulation, time of year and the overall desired look when I'm done with my makeup for the day. The A+ Cushion Foundation only comes in 2 shades, #21 and #23. This make since from a K-Beauty standpoint but if you're not of a lighter complexion, than the A+ Cushion Foundation is not for you just based on the availability of the shade range.
Overall, I really appreciate the Troiareuke line. I think they've done a great job with these products. I wish the A+ Cushion Foundation came in a wider shade range but I like the foundation itself and think it would be great for light makeup days. Hopefully they will improve this in the future. The P.I.T Cleansing Milk is probably my favorite of the items they sent me because it's very soothing to use while getting the job done. I like switching off between the P.I.T Cleansing Milk and ACSEN Oil Cutting Cleanser when necessary. The ACSEN TOC Toner is also very good. I'm more of the conservative side of using glycolic acid more than once/twice a month. So although it is more gentle than a lot of other glycolic acid toners, I prefer to use is sparingly as opposed to part of my daily skincare routine. 
I think Troiareuke is brilliant for their customizable skincare routine. Customizable skincare is on the rise as more and more people seek out personalized solutions for their skin and Troiareuke makes it accessible and affordable.
To try any of the product featured in this post, use code 10DAISIJO for 10% off all their products!